Neighbours - the Scott & Charlene Love Story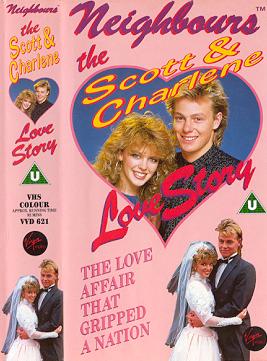 Virgin Vision Limited 1989 - VVD 621
(Approximate running time 92 mins)
Cover description
The place is Erinsborough. Scott Robinson stumbles on a mystery intruder attempting to break into the Mitchells' house on Ramsey Street, The 'intruder' is Charlene Mitchell, the daughter of the house...

And so began the love affair that gripped a nation. Now, on one complete programme, you can enjoy again the love story of Neighbours' favourite youngsters. From the first flickerings of romance to their first kiss, from the months of heartache as the older generation has its say up to the wedding that sealed their love, The Scott & Charlene Love Story is especially for Neighbours fans everywhere.
---
Our comments
This tape is a complation of scenes showing key moments in the lives of Scott and Charlene in episodes 234 to 522. It ends on the night before their wedding, but doesn't actually show the wedding itself. The credits list the main players seen in the clips.