The Neighbours Wedding Collection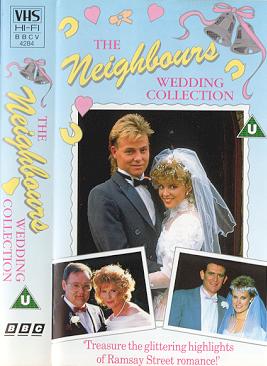 BBC Enterprises Ltd 1989 - BBCV 4284
(Running time 64mins approx)
Cover description
The memorable video all fans will want to keep

If Ramsay Street romance gives you goosebumps and you want to relive the fairy tale flutters of three glittering Neighbours weddings, this is your chance to drop in on Erinsborough and raise your glasses to your favourite brides and grooms.

With Daphne being delivered at the doors of wedlock in a horse-drawn carriage while and anxious Des holds his breath at the alter, and with Harold's proud and passionate defence of his breathtaking bride in the face of Mrs Mangle's last minute criticism, this specially compiled video is something for all fans to treasure. Best of all, though, is the tear-jerking highlight of them all - Scott and Charlene, the youngest Neighbours in Erinsborough, make their solemn vows to Angry Anderson's soul-lifting 'Suddenly' while you sit back and let your heart-beat falter.

So, whether you're old wedding guests or new, gather together in the presence of your favourite Neighbours and revel in the very best of Ramsay Street razzmatazz!
---
Our comments
The tape contains three full episodes: The wedding of Daphne Lawrence and Des Clarke (episode 295), The wedding of Madge Mitchell and Harold Bishop (episode 724) and The wedding of Charlene Mitchell and Scott Robinson (episode 523). These are the versions of the episodes broadcast by the BBC, but do not include the opening titles or end credits. Instead there are 'home-made' credits listing the combined cast of the three episodes.