Neighbours - How It All Began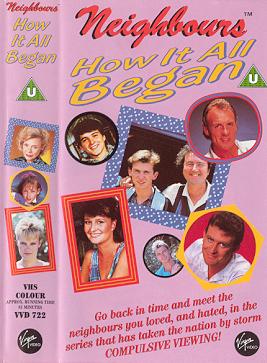 Virgin Vision Limited 1990 - VVD 722
(Approximate running time 81 minutes)
Cover description
Love 'em or hate 'em - but everyone's got 'em; 'Neighbours'

Now's your chance to see the very beginning of this much-loved series and meet the characters, now so familiar, as they first appeared, in an hour and twenty minutes of compulsive viewing.

Max Ramsay is determined for his elder son, Shane, to be the Olympic success he never was. In the meantime, he shows nothing but hostility towards his younger son Danny, who is plagued by a recurring nightmare in which Shane is injured while diving.

Scott Robinson starts to date Kim Taylor, unfortunately Kim's over protective mother is not aware of this.

Des Clarke's stag party turns somewhat raucous, much to the disapproval of some of Ramsey Street's other residents, particularly at 2a.m.! But a shock is in store for Des; on the day of the wedding, his financé Lorraine, calls the whole thing off. Being left with a house to pay for on his own leaves Des with more than his fair share of financial problems, so Daphne, the stripper from his stag night, moves in as Des' lodger. This, however, can only cause more problems with Lorraine, not to mention the neighbours...
---
Our comments
This tape is a compliation of the first four episodes, including some footage cut from the BBC and UK Gold broadcasts. The original opening sequence from episode one is included, but the end credits have been retyped (with typos!) over a background shot of No. 24 from the 1986-92 credits.