Neighbours - A 10th Anniversary Celebration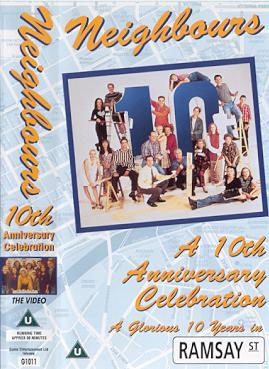 Game Entertainment Ltd 1996 - G1011
(Running time approx 90 minutes)
Cover description
This 10th anniversary video spotlights both the memorable characters and events from the enduring Ramsay Street series.

Original and current stars of Neighbours, including Kimberley Davies, Melissa Bell and Scott Michaelson, tell their part of the ten year story, supported by scenes of romance, marriages, births and untimely deaths that have been watched by an enthralled audience over the past ten years.

We remember the tragivc death of Kerry, wife of Joe Mangel, shot by a hunters bullet. Daphne, falling beneath the wheels of a moving bus. Harolds disappearance in 1991 and Todd being hit by a car leaving Phoebe alone with their unborn child.

In happier times, we recall the romances and weddings - Scott and Charlene, Brad and Beth, Harold and Madge and Paul and Christine.

The characters, the scenes, the major events - all that is Ramsay Street is contained on this 90 minute 10th anniversary special.
---
Our comments
A comprehensive documentary produced by Margaret Slarke and directed by David Morgan. Introduced by Anne Haddy it contains interviews with some of the present cast and crew, and also a number of former cast reminisce and reveal what they have been doing since leaving the show. There are also a large selection of classic clips, and interviews with other people who's lives have been affected by the show.
The full documentary has never been shown in the UK, but an edited version (approx 50 mins) was broadcast to celebrate the 10th anniversary of Neighbours starting in Britain.
The same video has also been released with a different cover.