Neighbours - Episode 724
Transmisson dates
Network Ten: 12/05/1988
BBC: 18/08/1989
UK Gold: 10/08/1995
Written by Rick Maier
Directed by Steve Mann

Finally the big day is here, Madge and Harold marry at last, with David Bishop as best man. During the reception, Des breaks down as the occasion causes him to recall his own wedding. Sally surprises everyone by catching Madge's bouquet.
Guest stars
Sally Wells: Rowena Mohr
David Bishop: Kevin Harrington
Reverend Sampson: Howard Bell
Bouncer: Himself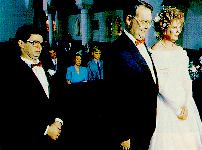 Available on the Neighbours: Defining Moments DVD collection.