Neighbours - Episode 690
Transmisson dates
Network Ten: 25/03/1988
BBC: 03/07/1989
UK Gold: 23/06/1995
Written by Wayne Doyle
Directed by Gary Conway

Charlene and Jane help catch the guys who bumped into Daphne's car, and the driver of the car is arrested. Helen and Frank admit their feelings toward each other before Frank goes back to the Bungle-Bungles. Daphne appears to be coming round, but Des' hopes are shattered when she suffers a cardiac arrest and dies.
Guest stars
Eileen Clarke: Myra De Groot
Tony Romeo: Nick Carrafa
Frank Darcy: Wyn Roberts
Dave Summers: Greg Fleet
Ted Regan: Julian Branagan
Nurse Rodgers: Mary-Rose Casey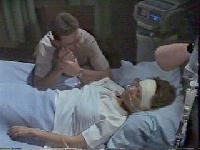 Medical Equipment supplied by Wallace Instruments
Thanks to Burvale Hotel
Available on the Neighbours: Defining Moments DVD collection.