Home > Episode Guides > 2003 Season
Neighbours - Episode 4201
Block/Week: 841
Transmisson dates
Network Ten: 21/03/2003
BBC: 28/04/2003
Written by Judith Colquhoun
Directed by Tony Osicka

Stuart is shocked by Libby's rejection of him. Darcy uses Sindi to keep Dee and Toadie apart. Karl uses comedy to hide his fear about the impending court case.
Guest stars
Sindi Watts: Marisa Warrington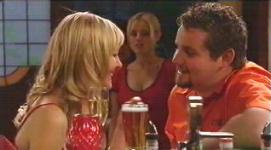 Music: 'Traffic' Performed by Jebediah

Note: Taj, Jack and Lori now in permanent cast list.