Neighbours Newspaper and Magazine Articles
Harrowing Scenes Mirrored Ailsa's Real Life Health Scare

The Weekly News June 12th 1999
---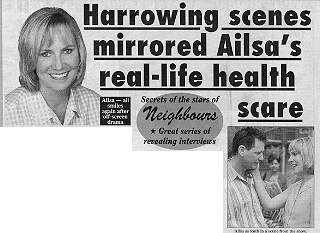 Occasionally, the real life of a soap star becomes amazingly like that of the person they are portraying on screen. Just look at Ailsa Piper.
Recently, Ruth Wilkinson, the character she plays in Neighbours, discovered a lump in her breast and feared she might have cancer.
The scenes that followed were harrowing to film, and actress Ailsa frequently found herself moved to tears by Ruth's terror that she was about to die and would never see her children, twins Anne and Lance, grow up.
Ailsa was emotionally drained every day in the studio by what was happening to Ruth. But at the same time, she had her own health drama to deal with. Specialists told her she had a cancerous condition.
Dilemma
"At first I couldn't believe it," said Ailsa. "It all seemed just too extraordinary. There I was, going to work every day to try to act out Ruth's feelings of apprehension. And I was facing the same fears in real life."
Ailsa had three skin cancers on her face that needed removing.
But she also knew that if she took time off from Neighbours, the story of Ruth's dilemma would be interrupted at a profoundly-important stage.
So, ever the actress and trained in the belief that "the show must go on", she asked her doctors if the operation could be put off for six weeks.
"To be honest, I was terrified," she said. "As an actress I'd never relied on my looks to get me work. I'd always had other things to offer.
"But suddenly, I had this terrible anxiety that my face might be ruined. And that was quite apart from my fears about the dangers of skin cancer itself."
Luckily for Neighbours, the operation could be put off and Ailsa was able to see Ruth through her health problem storyline.
Surgeon
And when Ailsa finally had the cancers removed, the operation turned out to be a complete success.
"It was done with a local anaesthetic, so it was very scary because I could see everything the surgeon was doing," recalled Ailsa.
Apart from the fact that the left side of my mouth was pulled down for a short time until the scar tissue faded, the result was great. I've been given a clean bill of health."
Before she became an actress, Ailsa, 40, had what could be seen as a typically-Australian childhood.
She grew up on her parents' 100,000-acre sheep station in Western Australia, which was so vast the stock had to be mustered by light aircraft.
After studying English at university in Perth for a year, she was offered work in a theatre company and at the age of 19, quit her studies to go on the stage.
"I'd acted at school and the theatre company had seen me in a student production, so they took me on," said Ailsa. "I never did get back to my education. But I don't regret that one bit!"
She met her husband, actor Peter Curtin, when he came backstage to see friends in a play in which she was appearing.
"I'd admired his work since I was 17 and when we finally met, I was blown away," recalled Ailsa.
"He's an incurable romantic. Two weeks after we met, we were cast in a radio play together. We were about to record a scene set in a field of flowers, which we had to imagine, of course. But Pete slipped in and scattered freesias all around the studio. If I had any doubts about him, that put an end to them!"
Bond
That was 12 years ago. Today, Ailsa and Peter are happily married and live in a Melbourne suburb with an "over-loved" dog called Angus, a wedding present from Peter's mum.
A keen cyclist, Ailsa even has a basket attached to her bicycle so Angus can ride with her.
Ailsa and Peter have no children, but that's fine by her. She has her Neighbours "family" instead.
"I have a really close bond with Brooke Satchwell who plays Ruth's daughter Anne, and Andrew Bibby, who's her son Lance," she said.
Concern
"It just feels absolutely right that they are my Neighbours family. In fact, when Anne and Andrew gave me loads of presents on Mother's Day, the cameraman had to remind me that I wasn't their real mother!"
Does she have a theory as to why Neighbours has proved to be so popular?
"Sunshine, generosity, familiarity, laughter, concern for others and silliness," she said. "Neighbours has all these in abundance, plus a secret ingredient. And if I knew what that was, I'd be a millionaire!"