Neighbours Newspaper and Magazine Articles
Harold's Glasses Were Target of House Raid
The Weekly News May 29th 1999
---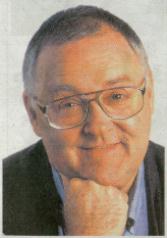 There's not much of Neighbours fusspot Harold Bishop in actor Ian Smith, who plays the part. While Harold likes everything just so, and has entrenched opinions on everything from religion to unemployment, Ian's much more laid-back.
Take his front garden, for instance. Is the lawn manicured neatly, the roses pruned to within an inch of their lives as Harold's is?
"I only wish you could see it," said Ian, his eyes moist with laughter.
"It's disgusting! I'm sure there's something large, nasty and very dangerous living in there. Gardening's not my thing. Besides, I'm getting to the age where my back won't let me do it!"
Imaginative
As Harold, 60-year-old Ian has been in and out of Neighbours several times over the years.
He even came back from the dead two years ago, after Harold fell off a rock into the briny, apparently never to be seen again, the only trace of him a pair of spectacles left forlornly on the fatal rock.
Scriptwriters thought better of it, however, and five years later, brought him back in an imaginative storyline about Harold being a strong swimmer and then losing his memory.
Even his glasses were returned to him, although they had to be copies, because the originals had been stolen in a raid on Ian's home in a Melbourne suburb two years earlier.
"I'd kept Harold's glasses, his pens, his Scout badges and woggles," said Ian. "A burglar trashed the house but only took the box of Harold's odds and ends, which I kept in the bottom of a small chest of drawers. I'm convinced the thief was a Neighbours fan who knew where to look.
"I was very angry. Luckily, we were able to buy another pair of glasses that pretty well matched the style of the old ones."
Now, it's as though Harold had never even been away and Ian certainly loves being back in Ramsay Street.
"Oh, yes, it's lovely, because I've grown quite fond of the old fool," he said. "Anne Charleston is an old pal and it's marvellous working with her again. We send one another up relentlessly we which we can only do because we like one another so much.
"Apart from Anne, the kids in the show now are just great and so enjoyable to work with."
Married
It was while he was working on stage in the late 1960s that fan met his wife-to-be Gail at a club, a haunt of theatre people.
"She happened to be working as an usherette in a theatre at the time and had come along to the club after work," said Ian.
"I knew as soon as I saw her that I had just met the future Mrs Smith. But I had to do a bit of work to convince her. She didn't realise how lucky she was!" he added with a chuckle.
"We were married six months after we met and we've been together ever since, which makes it 30 years."
Ian and Gail have no children. Instead, they have two tabbies called Tubby and Darcy and do all they can to support various animal charities.
"I love youngsters but I've never regretted not having children," said Ian. "Just never had the natural urge to be a father, I suppose. And my wife never desperately wanted to be a mother."