Neighbours Newspaper and Magazine Articles
Quit acting to become a salesman
after shock axeing from his previous soap role
The Weekly News February 21st 1998
---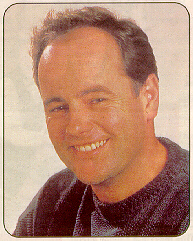 Ian Rawlings is now one of Australia's most successful TV actors. But it's not long ago that he gave it all up to become a businessman like Philip Martin, the character he portrays in Neighbours.
For six years, Ian had played the leading role of nasty Wayne in the Aussie series Sons and Daughters and then spent a year starring in a soap called The Power and the Passion.
Advantage
But when the series suddenly got the chop, he was left wondering where his next dollar was coming from.
"I had a family to support," said Ian. "I decided to give up on acting and take a job as a salesman with a big freight company.
"I'd worked there on and off loading trucks before my acting career took off, so when things went quiet it seemed the natural place to go back to. I rang up to see if there was anything going, and I was asked in for a chat.
"I was really surprised to be offered a sales position, but with no acting roles on the horizon, it seemed the sensible thing to do."
With no previous experience at selling, Ian surprised himself and his bossed by doing exceptionally well. He admitted being such a well-known face certainly helped.
"I had an advantage because people thought they new me," he said. "They couldn't quite place the face, but they thought I looked familiar and trustworthy. It helped me get a leg in."
But disillusion quickly set in and when, two years after switching to sales, Ian was offered the role of Philip, he didn't think twice about quitting the business world to go back to television.
"Call it fate, destiny or whatever, but I don't think I had much choice in the matter," he said. "Good or bad, it's my lot to be an actor."
With his new interest in business investments, Neighbours' Philip seems to be developing a good head for finances.
Big wins
But in real life, Ian much prefers the riskier approach to money matters.
He's a gambler with a passion for betting on horses. "I spend every Saturday at the race track and every other spare minute studying the form guide," he said.
He's had several big wins, but never more than a few thousand dollars at a time.
"My average bet is probably only about $10," said Ian. "But because I regard going to the races as my big day out, it makes no difference to me if I break even, win or lose.
Other people spend their money on having a boat or an expensive car. I spend mine at the track."
Best day
Ian's been a punter since the age of eight when his printer dad Ken and grandad Len first took him to the races in his home city of Adelaide
"Dad would give me $2 pocket money and I'd get my grandad to put 25-cent bets on for me," he recalled. "I've loved the racing world ever since."
Ian's wife of 13 years, actress Lee, shares his interest in gambling. She usually goes with him to the races. "Our best day was when Lee, her mother and I won $6000 between us," recalled Ian.
When Ian met Lee for the first time, marriage was the last thing on his mind. He was performing the opening ceremony for a chicken takeaway with a colleague dressed in a man-sized hen costume when he spotted Lee in the crowd.
A widow, she'd brought her seven-year-old daughter Lauren along for the show.
"As soon as I saw Lee, I felt like somebody had hit me over the head," revealed Ian. "I knew this was the person I wanted to spend the rest of my life with."
Ian managed to grab a couple of words with Lee and asked her out. Six weeks later, he proposed and four months after that, they were married.
As for Lauren, she's now 20 and a university student. "As far as we're concerned, she's my daughter and we're really good mates," said Ian. "although I have to say both Lee and Lauren tease me mercilessly if I ever have to do a love scene on Neighbours."