Neighbours Newspaper and Magazine Articles
Final Tears For Todd

Things go from bad to worse for Neighbours' young lovers Todd and Phoebe, this week...

What's on TV 12-18 June 1993
---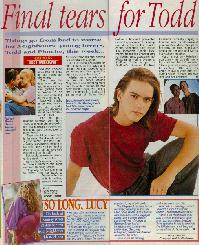 Todd and Phoebe have had to grow up fast these last few weeks.
Gone are the days when all they had to worry about was getting their homework in on time and sneaking out for a hot date.
Now, with a baby on the way, they've both got to make some big decisions about their future - and do it fast.
For his part, Kristian Schmid, who plays Todd, is in no doubt about what the two teenage sweethearts should do about the prospect of parenthood.
'They should go ahead with it,' he says. 'Todd would make a good father. He's got a reasonably responsible attitude to life and I think he'd try hard to give his child all the love he's missed out on himself.'
But, sadly, as viewers discover this week, it's not to be.
At Kristian's request, Todd is to make a dramatic and tragic exit from Ramsay Street.
'Originally, he was just going to leave and go back to Adelaide to live with his mother,' reveals Kristian, 18, who filmed his final scenes in Australia last August.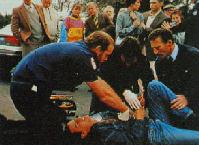 'But I felt it was unrealistic for him to pack up his bags and just go. So I got together with the writers and they agreed to let him go out with a bang.'
Kristian has no regrets about his decision. Since leaving Neighbours and devoting more time to work in Britain, he has been busier than ever. In the last 10 months, he's had a stint as co-host of Going Live! before it finished, presented several episodes of Jackanory, and starred in the ITV remake of the Seventies' sci-fi series The Tomorrow People. Next month, he tackles Shakespeare for the first time, appearing in A Midsummer Night's Dream at Stafford Castle as part of Stafford's Summer Festival.
Kristian's currently staying in London with his 65-year old grandmother, Marci. 'We get on brilliantly,' he says. 'She's very young for her age and we go everywhere together.'
Marci is not only Kristian's guardian - his parents live in Fiji - but also his fortune teller. 'She's great at reading palms,' he explains. 'She says I'm going to live a very long life, during which I'll have one true love and two children!'
Words: Chris Twomey
Photos: Idols, Grundy, Thames
---
So long, Lucy
The belle of Ramsay Street makes her exit from Neighbours this week, too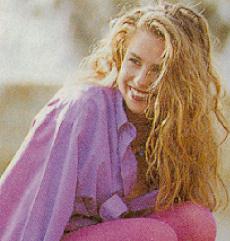 If the tears, look convincing when Lucy Robinson waves goodbye to Ramsay Street for a modelling assignment in Singapore this week, there's a good reason.
For Melissa Bell (left), who plays Lucy, is leaving the series for real. 'I wept buckets,' says Melissa, who's been in Neighbours for the past two years. 'It was like saying goodbye to my whole family.'
The 20-year-old actress (who's currently preparing to host The Land Down Under, a new Aussie chat show) has had a tough job taking Lucy through difficult teenage years. The rebel of Ramsay Street had an incestuous relationship with half-brother, Glen. was kidnapped, then broken-hearted soon after the ordeal.
Then came the drinking and huge credit card bills.
Now, with a modelling contract secured, Lucy's future looks certain - but what of Melissa's?
'When I left Neighbours, they said the door was always open and I'll be going back to record three episodes in July to celebrate the 2000th show. It will be great to see all the old faces again...'
Words: Zena Alli
Photograph: Joakrim Blockstrom